Plastic-free paperboard utensils launched across Europe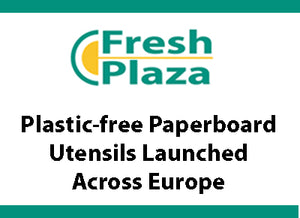 June 18, 2020 - Fresh Plaza online

EcoTensil announced the European launch of its plastic-free single-use cutlery for food packaging. The popular range of folding multi-functional paper utensils was developed to replace small plastic spoons and sporks found in pot lids, trays, and other grab-and-go packaging, with a more environmentally friendly option. The range is available to order now across Europe through the EcoTensil website.
The award-winning multi-functional EcoTensil utensils all have a much more pleasing "mouth-feel" than that of rough wooden spoons and forks. The sturdy EcoSpoon® is formed with one simple "bend to touch dotsTM" fold, easy enough for a young child to do. The EcoTensil team has designed its current product line specifically for single-serve packaging, foodservice and sampling applications. Drawing on its decades of packaging expertise, EcoTensil supplies its utensils formatted ready to be easily fitted into customers' existing packaging, or customised as needed.   
All EcoTensil products are made from materials from well-managed FSC®-certified forests and use 50-80% less material than plastic, bio-plastic or wood cutlery. "Using less resources is the best way to reduce waste going to landfill," says EcoTensil Creator and CEO, Peggy Cross. The GreenDot© line is made from a similar material to a coffee cup, but fully compostable, recyclable and contains no plastic. There is no taste, after taste, dissolving of the coating in one's mouth, or falling apart after a few bites. 
"The work Europe is doing to reduce single-use plastic is very important," adds Cross, "EcoTensil is supporting companies in meeting their plastic reduction goals with our wonderfully simple folding paper spoons. We have spent the last decade perfecting the silky mouth feel, smooth edges, structural strength and overall pleasing nature of the utensils."
There is an EcoTensil utensil to fit just about any size package and application process. The pre-folded TabLock© EcoSpoon4 (49mm folded length, 89mm unfolded) is locked shut and comes packed stacked in tidy rows for easy placement on the assembly line. This product is also currently available to order across Europe.
EcoTensil offers an unfolded, 82mm utensil and a 95mm size, both of which may be ordered hygienically flow- wrapped or loose pack. The 95mm also can be ordered folded to a 48mm length and wrapped for small spaces.
Pricing and information for EcoTensil standard and semi-custom utensils may be found here. Standard EcoTensil products may also be purchased through our valued distributors such as Celebration and Plastico in the UK. Customization is available for higher volumes by contacting EcoTensil directly.
EcoTensil has numerous patents both in the US and internationally, EcoTensil products will always be marked with: patents@ecotensil.com and the trademarked "Bend to touch dots™" accompanied by the trademarked pair of dots.